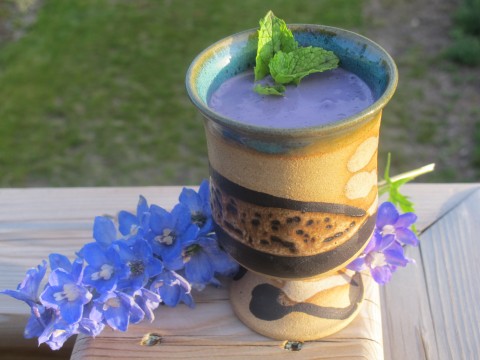 To Skjei Sharma yoga conveys union, connection of the mind and body, and embraces community spirit. It should be warm and inviting and supportive to work at one's own pace. These principles guided the founding of The Yoga Haven in Calgary in December 1999 by Maggie and Melisa Kavanagh. The Kavanagh's welcomed Skjei into The Yoga Haven in 2006 as a Prenatal Yoga Instructor and more recently Maggie has mentored Skjei to take the ownership role.
Skjei began yoga with an Iyengar Yoga class  after a car accident in 1996, which gave her a deepened understanding of the mind/body connection. She continues her studies with B.K.S. Iyengar and his family in Pune, India and with Senior Iyengar Teachers throughout Canada. She recently achieved the fourth level of certification at the Intermediate Jr. II Level through the I.Y.A.C. (one of the top three that hold this or higher level of Certification in Calgary). She is also a certified Ayurvedic Practitioner, with studies recognized by the University of Pune, India.
Further Certifications include YAA, YSCC, YSS, Doula, Prenatal/Postnatal Yoga, Yoga for Children, Shantala Baby Massage, and as a Reiki Master/Teacher. "It is a blessing to have been given the opportunity to share this knowledge with the Yoga Haven community," Skjei relates.
Currently the studio has 11 certified yoga teachers who continue their studies all around the world. All are experienced and mature teachers that hold the students in high regard. "The Yoga Haven continues to provide an open, non-competitive environment to develop one's own yoga," Skjei says.
Teachers are well trained, knowledgeable, and compassionate giving a special sense of community. "This studio was started with heart and soul and we continue to maintain that through our passion to create a safe, caring and nurturing environment. Students are encouraged to grow with their practice, at their own pace," says Skjei.
This studio has a fresh new look, decorated with eco-friendly materials. In putting yoga philosophy into practice, Skjei explains that they recycle and use only eco-friendly cleaning products with steam cleaning the floors every day to improve the studio while nurturing the environment.
As a Hatha Yoga Studio the classes include Iyengar Yoga Level 1, Level 2, and Multi- Level; Gentle Yoga; Pilates/Yoga+; Prenatal & Postnatal Yoga; Meditation; Yoga for Children (aged 3 – 8); Yoga for Tweens (aged 9 – 12); Mature teens are welcome in regular classes accompanied by an adult; and offer Ayurvedic consultations.
Those new to yoga are advised to take either Level 1 or Gentle classes. Those with more experience, and who would like a challenge, can take Level 2, multi-level, or Pilates/ Yoga. Various classes accommodate all ages and abilities, and the friendly staff will assist in selecting the right class for the individual. Workshops include topics such as Iyengar Yoga, Ayurveda, Ayurvedic Nutrition, Couples, Yoga for Children's Camps, Prenatal & Postnatal, Restorative, Laughter Yoga, and General Health & Wellness.
Classes are 1 ½ hours in length, with a selection of advanced classes that are 1 ¾ hours long. There is no additional fee for the longer classes. Skjei explains, "Longer sessions and class times will provide the students with a weekly progression in building a strong foundation to continue their yoga practice in everyday life." Skjei Sharma with The Yoga Haven is located at #206, 9919 Fairmount Drive S.E. in Calgary, Alberta.